News for the Normanview Residents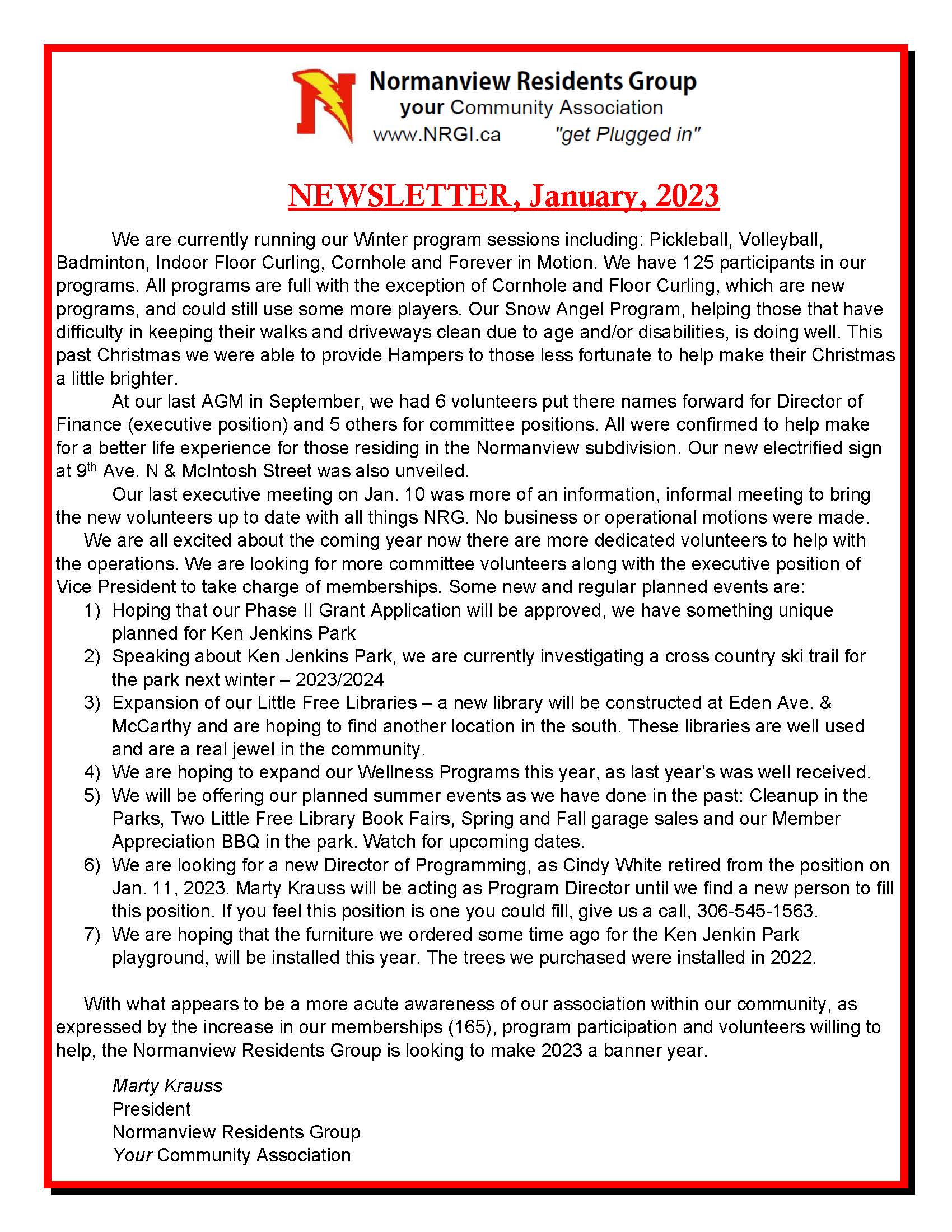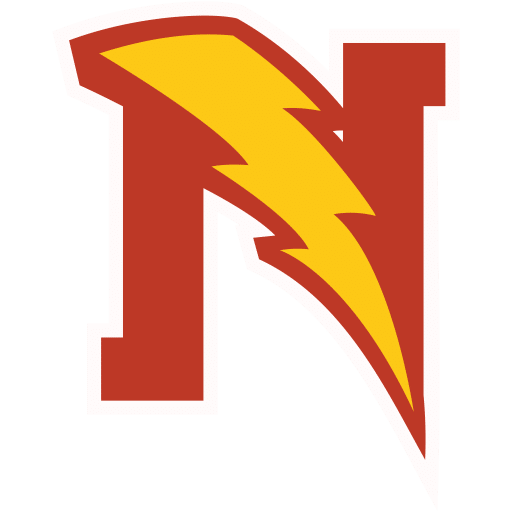 Do you have some news that would be relevant to the residents of the Normanview area?
September 2022
On July 26 we held our Wills and Estate Planning and it went over very well with 24 participants. More programs like this will be held in the future.
On Aug. 15 we had our grant application approved by the City of Regina for our Snow Angel Program. The Snow Angel Program is for those persons either through age or disabilities that are unable to clean their walks and driveways through the winter months. We ran a questionnaire to all residents earlier in the year, arriving at 18 recipients for the program. Unfortunately, this would be the limit at this time unless more volunteers stepped forward. Snow Angels (volunteers) are required for the initial program of the 18 recipients. Snow Angels will be provided shovels, scrapers, sand, ice melt at each location and access to a snow blower if required. Snow Angels will be compensated for any gas for their personal snow blower, gas for travel if required and a negotiated honorarium for their volunteering in this program. If interested, email infoNRGI21@myaccess.ca No funds will be spent from the grant funds for this program until it appears that the volunteer recruitment will be a success.
On Aug. 25 we held our second Little Free Library Book Fair at 231N McCarthy Blvd. with about 800 to 1,000 books on display. This was a rescheduled event that had been rained out earlier at the Sherwood/Milne Park. With 4,000 books to choose from, we ask everyone not to donate any further adult books or 231 N McCarthy Blvd. will need to be rezoned as a public library LOL Children's books are always welcome.
On Sept. 07 we held our AGM with 26 members in attendance. This attendance figure was more than ever before for an AGM and indicates to the Executive Board their support by the community. Some highlights from the AGM are as follows:

Our New Communication Sign at 9th Ave. N & McIntosh St. was unveiled
It was announced that the Snow Angel Grant Application for $12,822.83 was approved by the City of Regina. We thank the City of Regina for entrusting us with these funds in helping the community look after the aged and disabled with snow removal through the winter months.
Furnishings for Ken Jenkins Park will not be installed till next year due to supply issues.
LFL at Sherwood/Milne Park now has a full-time steward – Thank you Cheryl
Tennis Courts – at 5401 Sherwood Drive by Hanbidge apartments are on the shortlist for next year to be refurbished, hopefully, that will come to fruition
Our operating budget is just under $10,000. It was decided by all to invest $10,000 in a one-year and two-year term to protect the sustainability of the Normanview Residents Group.
The debunked Candy Cane Lane with the equipment and accessories will be stored for a year and be revisited to if they can be used for a Christmas event under a different name.
A request has been sent to the City of Regina to flood the tennis courts this winter for a skating rink as well as flooding a skating area in Al Pickard Park.
Marty Krauss was elected to a one-year term as President
Cindy White was elected to a one-year term as Director of Programming

On Sept. 11 we held our Member Appreciation BBQ in Ken Jenkins Park with 37 members participating. It was a fun time with cornhole, kite flying, California golf and somewhat of a waterslide LOL Everyone commented on how well-organized it was and the food was great!
Our Pickleball and Badminton programs are full. We have 10 in our Forever-in-Motion program. We still have room for our volleyball and our new programs for cornhole and floor curling.
Thank you all for your support for the Normanview Residents Group – Your Community Association
May 2022
The NRGI Executive met on May 5th and we would like to share with you a summary of those items discussed: Three months have passed since our last Newsletter, and I'm pleased to say that we are getting stronger as a community association every day.
There is still a lot of work to do but if we continue with our efforts and your help, we will be in a good place at our year-end, Aug.31, 2022
NRGI's purchase of the new benches, table and trees for Ken Jenkins Park Playground will not be installed until September due to a supply and delivery issue, according to the City of Regina.
The City of Regina will not be refurbishing the tennis courts in Tennis Court Park at 5401 Sherwood Drive this year because of no funding for the same. Hopefully next year.
Our three NRGI Little Free Libraries in the parks are open. Bulletin boards will be installed at the library locations this week. The board attached to the LFLs will notify residents of upcoming events local news and programs.
Our new community sign is located at 9th Ave. N & McIntosh St. is awaiting approval by the City of Regina. We did investigate using solar, but the cost was too high.
The Executive has hired Future Quest Consulting to take a Needs Assessment Survey of the Normanview neighbourhood to determine how NRGI can better serve the community. Our Phase ll Funding Grant will be used to pay for the survey.
We are still in search of a volunteer to open and close the Little Free Library in the Sherwood/Milne Park
Garage/Flea Market survey results. Both were discussed and a decision to hold a Community Garage Sale first and then hold the Flea Market in the fall, giving us time to put this Flea Market event together.
March 2022
Spring is here, Easter is around the corner and Covid19 for now, appears to be under control. Winter was trying on all of us dealing with the cold, lots of snow and putting up with Covid19 restrictions but the future looks brighter. The Normanview Residents Group (NRGI) has been working hard all winter in planning for the future to provide a better life experience for the residents of Normanview.
NRGI's purchase of the new benches, table and trees for Ken Jenkins Park Playground will be installed this summer.
We are working with the City of Regina to move up the date for the refurbishing of the tennis courts in Tennis Court Park at 5401 Sherwood Drive. NRGI will provide a portion of the funding towards this work if it helps to expedite the project sooner
Our 3 NRGI Little Free Libraries in the parks will be opening Sunday, April 10. Unfortunately, the LFL at Ken Jenkins Park was recently vandalized and requires a couple of new doors, but it will still be open on time. New this year at our LFL locations will be a bulletin board attached to the LFLs to notify residents of upcoming events and programs.
We hope to have our new community sign located at 9th Ave. N & McIntosh St. up and running by summertime. We are currently working with the City of Regina for final approvals and All Brite Signs on the final design. Cannot wait!
Enhancement of the Sherwood/Milne Park will be a work in progress this year and will require input from the community in meeting their needs.
Our New service by the Go-to-Guy was introduced recently to help the residents with their questions on renovations, DIY projects, and general home and yard. The service is free. A full description can be found on our Facebook page and questions can be asked on our website www.NRGI.ca by clicking the 'contact us' icon
NRGI has been awarded a $10,000 grant through the City of Regina, Community Investment Grants Program – Phase ll. These funds will be used in providing a professional Needs Assessment Survey to help the NRGI to better serve the community.
City Wide Leisure Guide Program Registration:
A current community association membership is required to register for programs offered by any community association, zone board or affiliate group.
If you have one already, be sure to bring it along, as registration without it is not possible. Memberships will be sold at the registration event. Program fees are collected at the first date of the program session.
New Community Message Sign
UPDATE:  As of October 15, 2022, we are proud to announce that our new illuminated sign was completed. The sign is located just south of 9th Ave. N on McIntosh St.
The larger sign will provide better communication with the community on all events, programs and special announcements. We currently do not have third-party advertising on this sign but will be looking at this idea later.
Watch for any announcements.
Do you have news to share with the community?
Fundraisers
Garage/Yard Sales
Community News
Community Events
Other
About NRGI
NRGI is the Normanview Residents Group, a community association in North West Regina.
The community association's boundaries are the CNR right of way on the south, 9th Avenue North on the north, between McIntosh Street (even-numbered residences) on the east, and McCarthy Boulevard (odd-numbered residences) on the west.
Contact the NRGI
Normanview Residents Group Inc. (NRGI)
P.O. Box 31060
Normanview RPO
Regina, SK  S4R 8R6